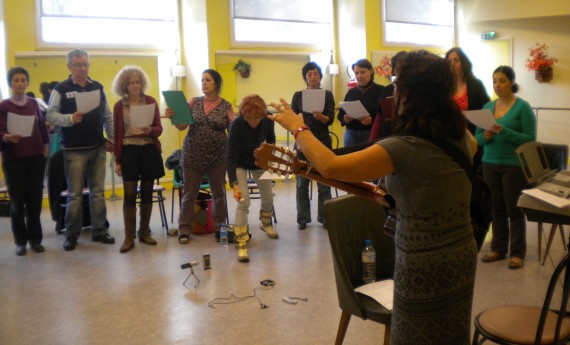 Sardinia, thanks to its insularity, has been able to preserve a very varied musical repertoire, although it was transmitted only orally.
The voice is one of the most original expressions of the Sardinian music, for its richness and its variety of styles. The songs are both harsh and soft, the voices guttural or a little nasal. One of their characteristics is their melismatic aspect.
They can be classified as monodic or polyphonic, a cappella or accompanied by instruments.
Among the polyphonic songs we find the cantu a tenore, heritage of the Unesco since 2005 and stemming from the pastoral culture, which is interpreted by four men,
as well as the cantu a cuncordu practiced especially by the brotherhoods dating back to the 16th century.
This workshop proposes to sing in polyphony, in order to learn to listen to the vibration of one's own voice and to join it to the vibration of the other voices present, in order to find a unique sound in harmony.
The work is based on the search for the natural voice or spoken voice, closer to one's emotions. This is done through a secular and sacred repertoire of traditional songs of Sardinia that Marina Pittau has arranged for several voices. These songs a cappella or accompanied by instruments are transmitted orally in the families or on the occasion of religious festivals.
The warm-up of the voice will be preceded by relaxation exercises and movements. This will be followed by breathing and sound awareness exercises, with vocalizations, which will help each participant discover his or her own timbre. After that, the group will move on to the discovery of texts, to learn how to interpret the songs.
This workshop is for anyone who wants to develop their voice and does not require any knowledge of music theory.
Bio
Marina Pittau was born in Cagliari, Sardinia. Immersed in a musical environment from an early age, this self-taught musician quickly developed great musical expression. Her musical debut took place in Paris, in 1982, with a solo performance of traditional songs from her homeland, during which time was also studying music. She continued her studies in Geneva at the Conservatoire Populaire, where she obtained her diploma in classical song in 1995. She then continued to broaden her artistic experiences with composing and theatre.
Over the course of the years, she has participated in numerous concerts, festivals, radio and television programs in France, Switzerland, Italy and Spain, all the while dedicating herself to teaching singing and the guitar. She runs regular workshops for polyphonic singing and has also produced two CDs, the first of which, A Distempus, won the Disque-Choc du Monde de la Musique in 1996. The second album, Raighinas, released in 2003, retraces her recent journey to Sardinia with musician friends.