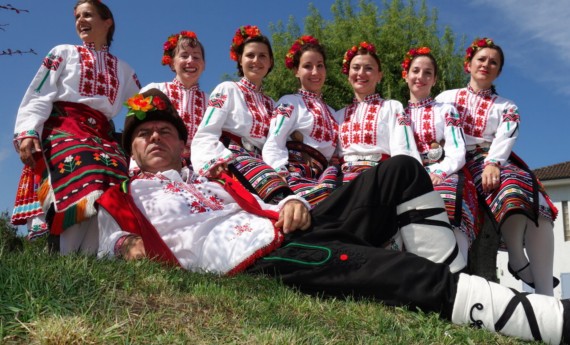 The beauty and movements of the Bulgarian folk dances saturate with emotions, challenge with their asymmetric measures and intrigue with the stories they tell.
Bulgaria is a country that lies at the crossroads between East and West, and has ancestral roots among three different tribes: the ancient Thracians, the Slavs and the Proto-Bulgarians. Before the country was established in 681, these peoples were originally separate and ethnically distinct with different cultures and religions. It is this mix that has contributed to modern Bulgaria's rich heritage, vibrant folklore and traditional culture.

For centuries, folklore has been the backbone of Bulgarian culture. Music, dance, tales, legends, proverbs, popular beliefs and customs make up the traditions of the nation. Since ancient times Bulgarians have celebrated different occasions by dancing horo - holding hands together and moving to the rhythm of the instruments. The folkloric music expresses the characteristics of the lifestyle and culture, as well as the Bulgarian people's dreams, aspirations, spiritual joys and concerns.

Nowadays Bulgarian folklore extends beyond the country's borders. The specific rhythms, such as asymmetrical measures (5/8, 7/8, 9/8, etc.), and the variety of melodies and dances appeal to a diverse audience. It is an interesting fact that a folk song from the Rodopska region – Izlel je Delyo hajdutin' - was sent into space on board the Voyager 1 and Voyager 2 probes in 1977 as part of the Voyager Golden Record.
Whether you would like to experience Bulgarian folkloric dance as a cultural trip or are just looking for an exciting way to release mental pressure and challenge your body, you are welcome to join us to enjoy the diverse rhythms and feel the magic of Bulgarian dance and culture.
Bio
Dimitar Bogdanov, aged 6, started dancing in the Bulgarian folklore dance group Dobrudzhanche, where he learned dances from the Dobrudzha region and other parts of the country. In the army, he joined the groupe for folklore dances of the town Baltchik, where he had his military service.
In Switzerland since 2003, Dimitar established the Bulgarian folk dance group « Bai Ganio » in Morges in 2014. He also teaches in Basel and Bern, as he joined the group Pendari.
Big fan of the Bulgarian folklore, Dimitar doesn't miss a folkloric festival in Bulgaria or Switzerland.