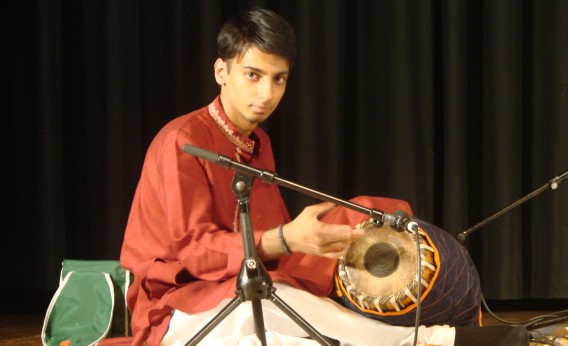 The mridangam is a classical double drum from South India. Used to accompany songs, instruments and dance, it is made form a single piece of hollow wood, though it may have originally been made of clay.
Played on both sides, the mridangam is a difficult art that requires many years of practice to be mastered.
Bio
Sivasuthan Sivarajiey
Born in 1982, Sudan developed a passion for percussion early on, thanks to his mother, herself an accomplished violinist. By 11, he was learning mridangam with master Vivekandart, and then continued to refine his playing with Neyveli Venkatest, who regularly comes to Switzerland. He also has training in a range of Indian percussion instruments, as well as the verbal forms of percussion, Odukku and Konnakol.
As one of the diaspora's best students of mridangam, he performs across Switzerland and teaches Venkatesh's students between workshops. Living in Lucerne, he is often invited to teach with V. Pasupathy.
Venkatasubramanian Pasupathy
Venkatasubramanian Pasupathy began his mridangam training at the age of eleven, with his first teacher, the illustrious M. Subramaniam Tanjore. He continued to refine his art with Mr Balakrishnan and Mr Mani Iyer Thanjavur. With 15 years' training and several concert experiences under his belt, he is now based in Geneva. His passion for this instrument continues under the guidance of maestro Neyveli Venkatesh. He began teaching 4 years ago and regularly invites his teacher along to classes.