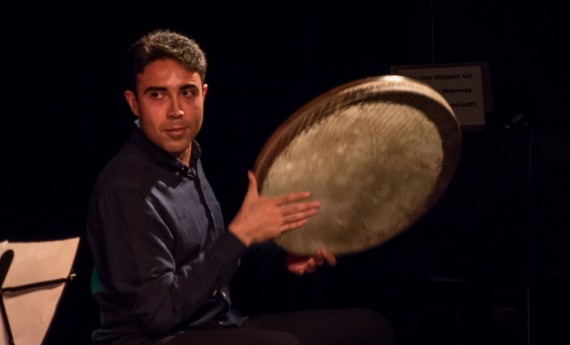 Although the daf is a large framed drum used to accompany Iranian Kurdish music, it is also widely played (without its rings) from the Middle East to Siberia, including Central Asia. It still survives in Portugal and Spain (as well as in Brazil and Guatemala) in the form of the adufe, which is also called the pander or pandeiro.
Made from an animal skin stretched across a wooden frame, the daf sometimes has garlands of metal rings (or bells), which produce jingling sounds. The instrument is used in prayer ceremonies, called Zekr (to recall), where, with the aid of the daf's intoxicating tempos, dervishes hope to remember the Loved One and the past promise they made to him. The instrument's circular form, rings and movement all evoke a key Sufi belief:
« Known in the past as Dayeré (literally: circle), it symbolically suggests the divine with its round form. God is perceived as a wheel producing the world with his rotation. The circle evokes creation, as it is similar to a cycle. Existence is an image with a circumference: the essence that animates it seems to reside in its centre". (From Master Madjid Khaladj's website).
Bio
Shahab Eghbali, born in 1992 and from Tehran, began his daf training in 2009 and studied under the best masters, such as Hossein Rezaeenia (who has accompanied maestro Mohammadreza Shajarian, maestro Shahram Nazeri, Homayoun Shajarian and the Shams Ensemble, with whom he developed an exceptional technique).
Shahab arrived in Switzerland in 2014 to pursue his studies at EPFL. He continues with his musical pursuits and gives concerts with other musicians from the region. He was delighted to discover the interest shown here in Iranian traditional music and so he began teaching the art of daf playing in 2015.