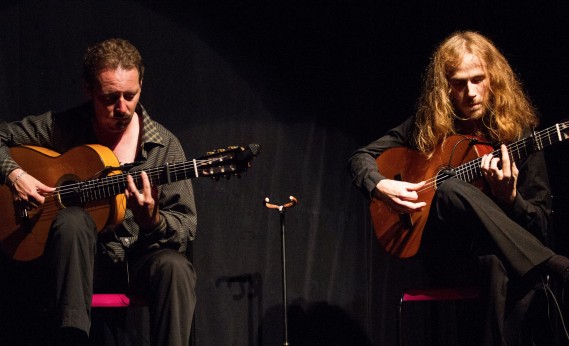 There are three ways to develop your flamenco practice in this studio: by learning the flamenco guitar, by accompanying song and dance students with the guitar and by participating in a workshop focused on buleria from Jerez.
Flamenco guitar
Flamenco guitar training comprises three parts: technique of the instrument, accompanying song and accompanying dance.
Guitar technique
The class looks at different techniques for the right hand (alzapua, tremolos, rasgados…), as well as the rhythms (compas), styles (palos) and harmony of flamenco – traditional and modern falsetas. Once students have acquired a certain mastery over the instrument, they then learn to accompany song and dance to render their training complete – it is by accompanying that the student will truly experience flamenco and also gather the ingredients necessary for learning and appreciating the richness and complexity of this art.
Accompaniment of song
To begin with, we study the rhythmic formulas with specific chords, and then move towards playing with these formulas when accompanying the singer (recorded). Finally, in order to have a 'live' learning experience, the student can accompany the teacher who will sing in the styles that have been tackled.
Accompaniment of dance
The same method for the accompaniment of song is used – students learn rhythmic and harmonic formulas, which they'll use to accompany the dancer (recorded in videos). Finally, if students wish to, they can participate in a fortnightly studio of dance and song accompaniment (see the buleria de Jerez workshop). All the material examined in class (falsetas, techniques, compas, accompaniment of song and dance) will be provided to the student in videos, mp3 files and tablature scores.
Session guitarist for flamenco dance
This workshop is for dancers and students of flamenco who want to dance, participate and work on their choreographies with the guitar and song. Manuel Castan lived in Jerez (Andalousia) for three years where he progressed enough to be able to confidently accompany dance and song. There, he had access to a tablao (dance studio) and practiced daily with numerous dancers, who had also come to improve in Jerez. He discovered a real pleasure in analysing and understanding the language of this dance. As he was himself a dancer of Argentine tango, he is sensitive to the physical demands and is deeply interested in the possible connections between dance and guitar.
All the parts of the baile structure can be worked on: entrada, llamada, remate, marcaje, escobia, subida y letra. Manuel Castan is not a flamenco singer but he can sing the melody correctly and knows the compas, which is more than enough for practicing and training together. The session, which can last from one to two hours and can be for one person or for a small group, takes place in a relaxed and constructive atmosphere.
Buleria de Jerez workshop
The aim of this workshop is to create an atmosphere where dancers and guitarists can meet, learn and practice together. The dancers learn to use the codes and material of the buleria so that they can dance and improvise in response to the singing. For those who already know this language, it is an opportunity to practice with song and guitar. Guitarists can also learn and practice accompanying cante and baile por buleria.