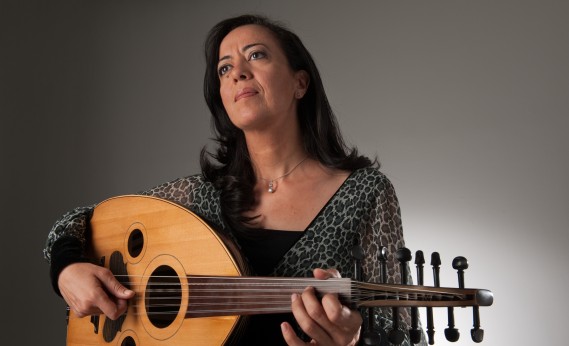 The oud course is designed for beginners as well as advanced students of all ages. The course aims to teach the student the techniques of playing the 'oud by studying the main maqâm, styles and rhythms of oriental music. The courses will also propose the approach of the tuning. The student can also, if he wishes, learn to accompany his voice whatever his instrumental and vocal level.
The singing course is intended for those who have already practiced oriental singing and wish to improve and deepen their level, or for beginners who wish to discover the techniques of this art. This course will be adapted to all with an oral and traditional learning.
Through songs taken from the classical oriental repertoire, a modal and auditory education will allow the student to progressively acquire a musical autonomy. The repertoire studied will include songs chosen by the teacher and/or the student.
Bio
Born into a family of musicians, Yousra Dhahbi felt the call of sounds at an early age. From the age of 8, she followed a complete musical training, which led to an international career as a soloist. She has the opportunity - a rare privilege for a woman - to participate in illustrious ensembles such as the famous Rachidiya of Tunis. An expert in the art of mâqam, the art of oriental modes, she also masters improvisation, constructing her melodies with exemplary rigor and inspiration, beyond any cliché.
An artist of great creativity, Yousra has been nicknamed "the Sultana of the Lute" by connoisseurs. Solo or with her ensemble, she has been invited to perform on prestigious stages such as the Victoria Hall in Geneva, the Alhambra in Geneva and the Institut du Monde Arabe in Paris, which also released her first CD, "Rhapsoldie pour luth" in 2004.
Yousra Dhahbi has always been interested in teaching and musical research. Since 1988 she has taught the 'oud, oriental singing techniques and improvisation at the National Conservatory of Tunis, of which she was director, then at the Higher Institute of Music. Now established in Lausanne, she intends to pursue her career and her pedagogical work from this new home base.