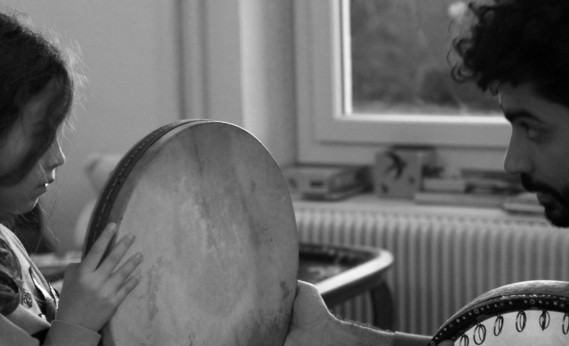 This group lesson opens the door to Persian music for children through traditional and enjoyable learning methods. Children learn to sing the most ancient songs of the Persian repertoire while accompanying themselves with a percussion instrument of their choice (dâyereh ou tombak).
This method has been the first stage in learning music for centuries, not only in Iran, but also in neighbouring countries. It allows the students to:
Become familiar with the fundamentals of Persian music (modes, rhythms, history etc)
Know and learn to play the various rhythms of Persian music
Learn the techniques for playing the percussion instrument of their choice (dâyereh or tombak)
Acquire a knowledge of the language thanks to the detailed translation of song lyrics.
Bio
Musician, performer and professor Hossein Rad was born in Tehran. He started learning the radif (the classical repertoire of traditional Persian music) on the setar. Parallel to this he took classes in Persian song under the tutelage of D. Mehrparvaran, and percussion with Farid Kheradman and Djamchid Chemirani.
Since his arrival in Europe in 2005, Hossien Rad has played in various musical ensembles and gives classes in Persian music. During the Croisée des Cultures 2014, he taught adults and children, and is now offering regular workshops to build on these beginnings.
PLACE :
ADEM MARAICHERS
44, rue des Maraichers
1205 Genève
TIMETABLE :
On wednesday, 16h30-18h
On Saturday, 10h30-12h
FEES :
Collectif classes (3-6 students)
90 CHF per month per student
80 francs for parents members of the ADEM
CONTACT :
Email : fahimirad.hossein@gmail.com