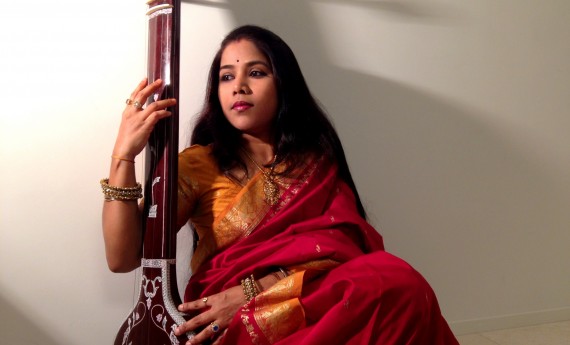 Hindustani Classical Music or North Indian classical music is said to be evolved in Northern parts of India in 13th & 14th centuries A.D. and it finds its origin in Vedas which are the oldest scriptures in the Hindu tradition. The description of music, in particular, has been given in detail in Samaveda (Saman means "melody" and Veda means "knowledge").
Hindustani music is traditionally much elaborated, expressive and practice-oriented. The success of its presentation mostly depends on the improvisation techniques and therefore, varies from one artist to the other. Hindustani music is taught mostly through oral presentation from a Guru (teacher) to a Shishya (student) under the Guru-Shishya parampara or the Teacher-Student tradition.
Technically, Hindustani music system is based on 7 notes termed as "Sa Re Ga Ma Pa Dha Ni Sa" in order, just like the Western Classical Music. However, according to Indian musicologists and music maestros, these seven notes are originated from nature especially from the sounds of animals and birds. For example: Sa (Sadhaj) – Peacock, Re (Rishav) – Skylark, Ga (Gandhar) – Goat, Ma (Madhyam) – Dove, P (Pancham) – Cuckoo, D (Dhaivat) – Horse, Ni (Nishad) – Elephant.
Indian Classical Music is so rich that every human emotion, every restrained feeling in man and nature can be musically expressed and experienced.
Fundamental Components:
Hindustani Classical Music is based on two important components called Râga and Tâla.
Râga: The word "Râga" has no equivalent in English and is difficult to explain without practical demonstration. However, it can be considered as one of the melodic modes used in Indian classical music. A particular Râgauses a set of at least 5 notes out of the seven notes of an octave and each Râga has its own mood like love, humour, pathos, anger, heroism, terror, disgust, wonder or serenity. These are the Nava Rasas or nine basic emotions, fundamental to most of the Indian art forms.
When an artist performs a particular Râga, he not only sings the compositions as it is but also elaborates the Raag with creative imagination of his inner sprit to improvise it. The artist tries to establish a unique relationship between melody and rhythm which can satisfy both the performer as well as the listeners. There are several different Râga based on ten Thaats. Examples of some Râga are Bhupali, Yaman, Durga, Kafi, Malkauns, Khamaj, Asavari etc.
Tâla: Tâla is the rhythmic counterpart to Râga. Literally Tâla in Sanskrit as well as in Hindi means clapping. Since, rhythm is an inborn attribute of humans; therefore, it is possible that Tâla is more ancient in Indian music than Râga and its mention can be found in the ancient Bharatha's Nâtya Shastra. Tâla are nothing but Rhythm or more specifically rhythmic structures or patterns roughly corresponding to metre in Western music. There are many pre-defined Tâla in Indian music and any Indian music when written or composed is set to a particular Tâla. Each Tâla has a cycle, divided into equal beats called 'boles' (which are but sounds of Indian percussion Tabla or Mrindagam). Examples of some common and mostly used Tâla are Teen Tâla / Tri Tâla, Jhap Tâla, Dadra, Kehrawa etc.
Over All Course Structure:
Introduction to Hindustani Classical Music.
Introduction to

Swara

/ Notes.
Voice Culture/ Vocal Warm up techniques through simple vocal exercises.
Practice of

Alankaars

.
Basic

Tâla

/ Rhythm Patterns in Hindustani Classical Music.
Learning of different

Râga

through elaborate study and practice.
Assignment for the students.
Bio
Dr Bijayashree Samal is a Hindustani Classical Vocalist born and brought up in India and living in Geneva, Switzerland since 2006. She is trained in Hindustani Classical Music under the famous Gwalior Gharana and holds a Visharad degree from Akhil Bharatiya Gandharva Mahavidyalaya, India. Blessed with an extremely melodious voice, she is known for her divine and clear rendition of difficult Raags and is been well appreciated by the audience during her live concerts.
Bijayashree is a graded general artist of the prestigious All India Radio and travels India in between to complete her recording assignments. She is also known for her expertise in Semi Classical & Light Classical forms of Hindustani Music. She has performed under several prestigious banners/ platforms nationally and internationally and own several prizes.
Academically, she holds a Doctorate degree in Chemistry & published papers in international journals.
Musical Journey
Bijayashree is one of the fortunate artists to be born in a musical family thereby picking music as easily as her childhood games. She started her Music training at a very early age under the careful guidance of her mother Mrs Sanjukta Samal, a Hindustani Classical Vocalist hailing from India. As the first stepping stone of her life, she passed the audition in the children category for the prestigious All India Radio (AIR) during these days and as an approved child artist, she recorded her very first song for AIR at a tender age of ten.
Bijayashree at a later stage took extensive training in Hindustani Classical Vocal under Pandit (Dr) Chittaranjan Pani, one of the leading vocalists of India under the famous Gwalior Gharana. Subsequently, she became a graded general artist of All India Radio due to her persistent interest in music and hard work.
Currently she is pursuing higher studies in Music under the able guidance of her earlier Guru Pandit (Dr) Chittaranjan Pani ji, Mrs Anagha Hindelkar ji of Gwalior-Kirana Gharana and in Swiss, she is under the direct guidance of Sri Udai Mazumdar ji (a senior Tabla player of Banaras Gharana, Composer and a worldwide performer) to explore the complex and dynamic world of rhythm in terms of improvisation of vocal techniques and presentation style with several rhythmic possibilities. She is also involved in collaboration works with Indian International Composers.
Bijayashree is teaching Hindustani Classical music and doing workshops to promote it in Switzerland. She is regularly giving Classical/ Semi classical/ Light Classical music concerts in & around Switzerland & back home in India. She is currently based in Geneva, Switzerland.