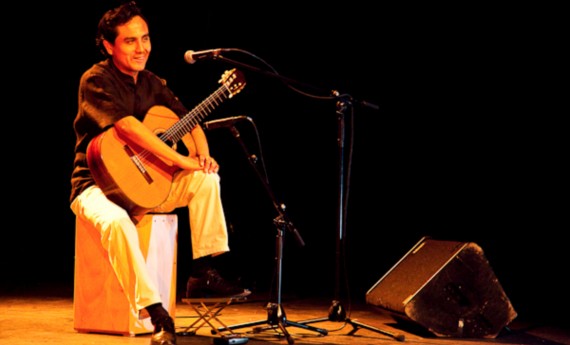 Paco Chambi teaches guitar classes based on the Latin American music tradition (classical and popular), but also teaches other repertoires according to the interests and requests of the students. If necessary, sight-reading can also be taught. Drum machines and loopers are available for theory and practice classes, in addition to a possible introduction into digital music.

Studio recordings can also be arranged as a medium for students' work or within the framework of a music project.
Bio
Paco Chambi was born in 1960 in Magdalena del Mar, a quarter of Lima, Peru. He had his first encounter with African influenced music at the age of five, and began studying guitar at Lima's conservatory at eleven. Two years later, he had formed a Cuban guaracha group with whom he recorded his first album. He also formed an Afro-Peruvian group while studying at the Conservatory.

With all of this experience behind him, he rapidly developed into an excellent soloist in both classical music and traditional Peruvian styles. Following a tour in Europe, he moved to Geneva at the age of 27 and studied classical guitar teaching at Geneva's Conservatory. He also trained in studio-recording techniques and digital music and uses all of these skills in his music practice. Having worked now for several years as a guitar teacher, he continues to perform regularly in festivals and at the theatre.
Some of the highlights include:
Royal Festival Hall and Camdem Festival in London
Mawazine Festival in Morocco
Paléo Festival in Nyon
International Festival of Fairy Tales
Albahaca at the Théâtre de Poche in Geneva