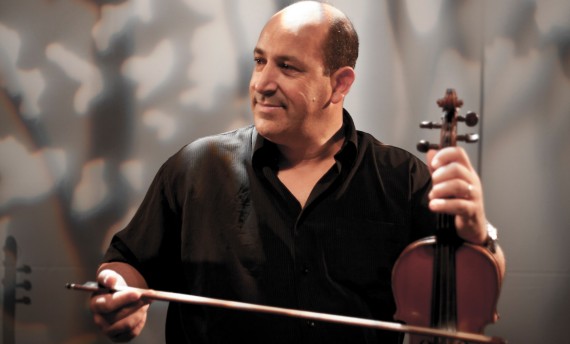 Arab-Andalusian music had its golden age during the period in Spain that was dubbed the 'Three Cultures': al Andalus. After the fall of Granada, this music found refuge in the Maghreb where artists would continue to evoke this Andalusia with nostalgia, an Andalusia which had become a lost paradise for them. This music has continued to evolve for centuries thanks to an oral tradition that has not stopped evolving.
Popular music, called chaâbi, was born at the beginning of the twentieth century, from a mix of three sources: Arab-Andalusian melody, melhoun and love poetry, as well as the Berber language.
These courses are open to different instrumentalists: strings (oud, violin, guitar, mandolin, mandola), flute, clarinet, percussion (darbuka, riqq, other eastern percussion), song (open to non-Arabophones)…
Level: intermediate-advanced
Bio
Born in Tlemcen in Algeria, Fouad Didi has been singing, and playing the violin and oud since his childhood. He studied the repertoire and associated techniques with the great masters of his time, who encouraged his thirst to learn and shared their knowledge with him. He fell in love with the violin and it became his instrument of choice, though he still loves to play the mandolin and the oud.
He founded the Tarab orchestra, which specialises in the classical repertoire and respects the ancestral oral tradition. After numerous concerts in France and overseas, he was recognised as one of the greatest representatives of Arab-Andalusian music.
He teaches at the Conservatory of Toulon and Aubagnae, as well as the Cité de la musique de Marseille, where he leads courses, master classes and workshops on Arab-Andalusian music.
PLACE:
ADEM Montbrillant - 10, rue de Montbrillant - 1201 Genève
TIMETABLE:
Saturday 3pm-7pm, Sunday 11am-1pm/14pm-4pm
DATES 2023: May 13 & 14, September 16 & 17, November 11 & 12
DATES 2024: January 13 & 14, March 9 & 10, May 11 & 12
RATES: 180.00 CHF for the weekend (160.00 CHF for ADEM members) to be paid 15 days before the beginning of the course
CH840022 8228 5225 4040 W with mention " training course Fouad Didi "
CONTACT :
Rose Walker tél. 076 337 77 36
Email: rummel_atelier@bluewin.ch