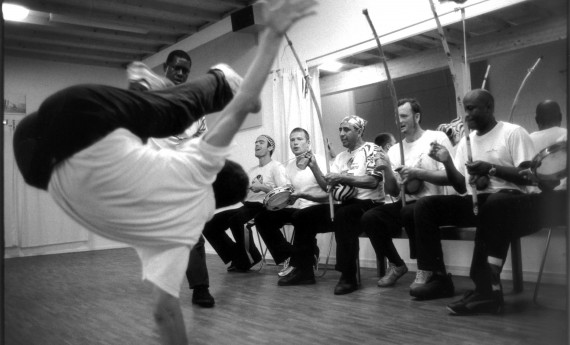 Capoeira Angola – Dance, music and Afro-Brazilian martial arts with Mestre Braga
Capoeira is both a dance and a martial art, with deep roots embedded in its African heritage. Its beginnings date back to the arrival of the first Bantu slaves in Brazil. In its traditional form, Capoeira developed a technique of movements that combined ancestral rhythms and the necessity of a camouflaged physical struggle in response to Portuguese slavery. In order to protect themselves and organise their resistance, certain groups of black rebels would meet in clearings within thick forests, where a grass called capoeira grew.
Capoiera is a game of movements that retell this part of Brazilian history through physical expression and song, which is accompanied by the famous musical arc known as the berimbau.
Bio
Originally from Rio de Janeiro, Mestre Antonio Braga is a member of the famous Capoeira Angola school run by Mestre Pastinha in Salvador de Bahia. He was initiated into the school in 1970 by Mestre Moraes of Salvador. He then continued to develop his dancing by founding the Capoeira group Angola Africa Banto.
He has already organised many training workshops and dance demonstrations, not only in Brazil but also in the United States, Denmark, Netherlands, and Germany, as well as in Geneva, where he is now based.
PLACE & TIMETABLE :
Monday, 19h30 - 21h30 : Beginners : Ateliers d'ethnomusicologie - 10, rue de Montbrillant - 1201 Geneva
Mercredi, 20h - 22h : Ateliers d'ethnomusicologie - 10, rue de Montbrillant - 1201 Geneva
Friday, 20h - 22h : Multatuli - 16-18, rue de Montbrillant - 1201 Geneva

FEES :
200 CHF / quarter (collective workshop ) -Reductions for the unemployed
CONTACT :
T : +41 (0) 78 914 89 69
Email : nevesbraga1@bluewin.ch