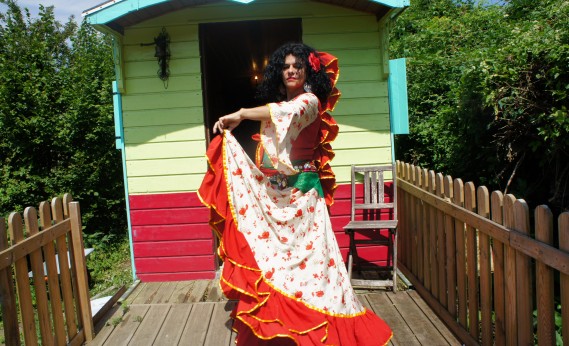 The aim of these classes is to relay the basic techniques of the gypsy dances, by starting with their common elements: footwork, body positions and rhythmic contrasts.
Pat la Gadji rounds off her classes with performance elements so that students can obtain a sense of balance on stage, awareness of direction and the purpose of expressions, as well as a lot of other elements that feed into a dance a successful performance.
This is an intense dance with a pronounced feminine character, which calls on participants to dare to stomp their feet, to frown, to shake the shoulders, twirl their skirts, sway their hips and express what pleases us. Whether it is the gypsy dances of Russia with the big skirts or the small steps of the Roma from Romania, complete with strikes and counter tempo…the gypsy universe and its movements awaits.
Bio
Pat began her dance training in 1979 at the school of Brigitte Matteuzzi, the first jazz ballet school to open in Geneva. She continued on, moving towards modern and classical ballet (Fly Ballet School and Floriane Vergères).
In 1999, the gypsy dances of various countries erupted into her life, and led her to train in the different styles in different places: flamenco (Geneva, Cadiz), Russian gypsy (Geneva/Paris/Berlin), Roma of Turkey (Grenoble/Istanbul), Roma of Romania (Romania), Rajasthani gypsy (Rajasthan/Paris). Her passion for this culture was born!
She has also trained in other disciplines:
- From 2003 à 2005 with Catherine Bangerter for "Radiographie d'une peintre " – with vocal coach Marina Frei and Françoise Chevrot for theatre pointers.
- From 2009 to 2014 she studies for a diploma at Geneva's Popular Conservatory of Theatre
- From 2013 singing takes over once again with Patricia Tondreau and Diana Plüss
- In 2014 she lands a role in the show "En plein Lac"
Her theatre training becomes the base for her gypsy dance performances, where her movements and expressions reflect her passion for this culture.
Since 2007 she has participated in various shows, festivals, events and theatrical pieces. Pat la Gadji works with different musicians depending on the repertoire (Russian, Romani etc.) and according to the demand of her personalised creations.