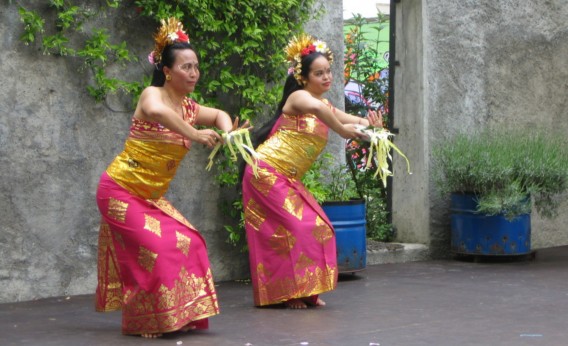 Sinah teaches the traditional dances of Bali, which come from the secular tradition of palace dances and popular village dances. With the aid of stylised movements of great beauty and the music of the gamelan (unique metallic percussion), the dances evoke, among other things, the characters and events of mythical epics from India (Mahabharata and Ramayana).
By teaching the basic techniques and movements of these graceful dances, Sinah Tordjman opens up an incredibly rich cultural and artistic universe for discovery. She is a renowned artist who is passionate about the transmission of this unique patrimony.
Bio
Sinah Ni Nyoman Tordjman was born in Bali. At the age of 6 she was selected to become part of the Ubud Royal Ballet, where she became one of the Ubud temple's sacred dancers. It was here that she learnt Tari Lepas, which is the classical repertoire of all traditional dances. Having mastered this art, she continued on the tradition of transmission by teaching young Balinese.
After her marriage, Sinah settled in France and began giving private lessons before becoming a regular teacher at the Ateliers d'ethnomusicologie in 2007.