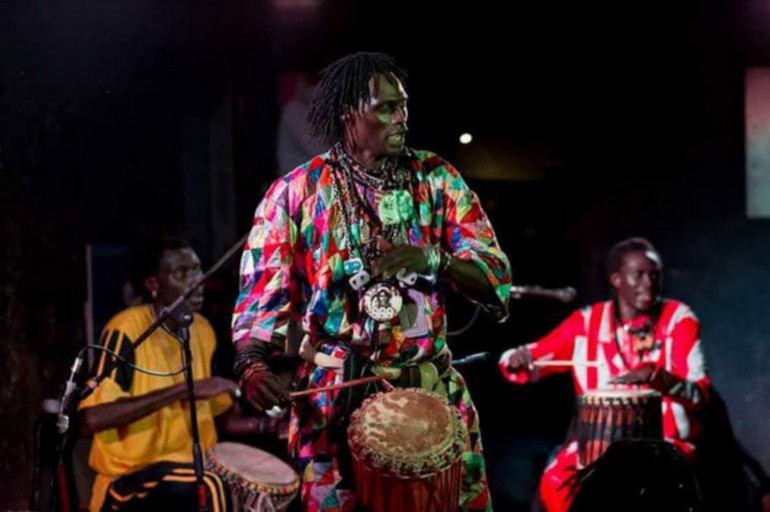 Settled in Europe since 2008, Mbar is regularly called upon to give workshops and to transmit his knowledge of the traditional rhythms of the sabar with instruments such as sabar, tama, m'bung, n'der and lamb.

His teaching of African rhythms is purely traditional: this transmission comes from the oral customs of the griots and before approaching the drum. First, the student must grasp and appropriate the rhythms first in the body, and then sing and translate it to the instrument with the help of sticks.

Mbar has recorded several albums of traditional sabar rhythms and songs. He has just released a 4th album DEMBA AKTAI: L'art du sabar d'hier à aujourd'hui - danser sur les rythmes ancestraux transmis par des grands maîtres avec respect et tradition. A return to the sources which takes into account the protection of the cultural values of Senegal.
Bio
A professional griot artist, Mbar is renowned for having accompanied the big names of Senegalese music and for having trained many musicians in the traditional art of Sabar. He had his beginnings in the tradition at the age of 9 in a religious school and during big ceremonies in Senegal. Talented, he was very quickly invited to be part of local groups. Later on, he created his own sabar group, Ndiaye Music Group, by spotting gifted and promising young children.
Mbar has collaborated with the following groups:
Nguewel Dian, Bax Yay, Soda Mama, Papa N'Diaye Guewel, Ngomen Group, Mbaye Faye Gorong, Lamp Fall Group, Pape Kanoute, Maagal Serigne Fallou. With Groupe Ouza, he went to Morocco for the Rabah festival, to Canada for the "Jeux de la Francophonie", to Mali for the "Festival du désert", Greece, Belgium, Germany and Italy. In Italy, he performed as a soloist with groups such as Sunuafrica, Tamburi di Gorée, Badara Sek, Mass Ndiaye, Festival de www.djembe.it, Dialaog festival Teatro Ostia, Folklore Festival of Agrigento, etc.