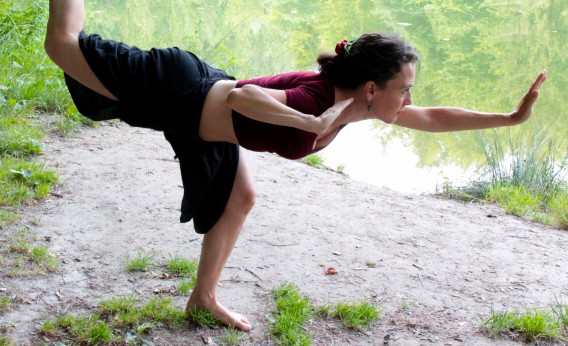 Kalarippayatt is, according to legend, the ancestor of martial arts. It comprises of exercises specifically designed for a complete mastery of the body, techniques for armed and bare handed combat, and therapeutic massages based on the knowledge of vital points (marmas). It is anchored in Kathakali training and is practiced in theatre schools throughout Southern India.

Kalarippayatt involves breathing, warm up and stretching exercises, as well as great variety of postures inspired by animal movements (lion, elephant, cat, serpent and so on).

The infinite combinations of these positions evoke a dance of a grace and strength, the practice of which is simultaneously energizing and relaxing, stimulating and balancing, both physically and psychologically.

During this introductory day, we will begin with breathing, stretching and warm up exercises through diverse movements and leg lifts (kalugal). Then we will discover the animal postures and their combinations (ashtavadivu).

The class is open to all and you do not need to be at a particular level, although the practice of yoga, dance or a martial art is an advantage. Teaching will take into account the different individual levels.
Bio
Heidi Rasmussen has been practicing Kalari-Ayurvedic massage since 2006. She travels to Kerala every year to enhance her knowledge.
His teaching is particularly oriented towards the aspects of health, well-being and balance of kalarippayatt. She has also been practicing yoga since she was 13 years old. She has always been passionate about India and its treasures of culture, philosophy and medicine.
PLACE:
Monday: Salle communale de Givrins, rte de Genolier 9 - 1271 Givrins
Tuesday & Sunday: Ateliers d'ethnomusicologie - 10, rue Montbrillant - 1201 Geneva

TIMETABLE :
Monday from 17h30 to 19h
Tuesdays from 16h30 to 18h00
Sundays from 10 to 12h + 14 to 16h30 ; 26 September, 31 October
FEES :
Tuesdays : 100 frs / month ADEM's members : 110 frs / month
Sundays : (4h30) : 85 frs (75 frs membres ADEM)
CONTACT :
T : +41 (0) 76 397 23 89
Email: haidiras@sunrise.ch