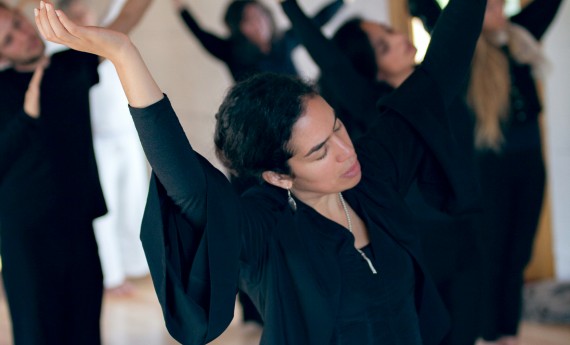 This course, based on the Sufi tradition of whirling dance, is accessible to all. You can begin your practice of Samâ (Sufi dance) at any time during the year. The class starts with a listening meditation that offers better understanding of Samâ, which means spiritual listening.
The first part of our practice allows us to unify the three elements essential to whirling: body, space and time. After having studied the spiral movement technique, the workshop finishes with 'free' Samâ, where each person can experiment with their meditative state as they wish.
Bring a bottle of water.
Wear comfortable clothing, with matching colours, and socks. Sufi skirts are provided.
Bio
Recipient of a Master of Anthropology in dance and ethnomusicology (University of Clermont-Ferrand, France), Rana Gorgani is a choreographer of Iranian origin. A specialist in dances of the Persian world, she has dedicated herself to Sufi spirituality through dance for several years.
She reveals the rich universe of Sufism, sharing her knowledge of the dance of the whirling dervishes with us, from a contemporary, inclusive and secular perspective.
As a member of the international council of dance at UNESCO, she participates in further development of this dance through her professional training.
PLACE :
Dance Area - Rue de la Coulouvrenière 19, 1204 Geneva, Switzerland
TIMETABLE :
Monthly on Sunday, 14h-18h
NEXT DATES 2020 :
19 january, 16 february, 22 march, 17 may, 21 june
FEES :
120 CHF, ADEM member 100 CHF

CONTACT :
T : +33 6 86 67 86 47