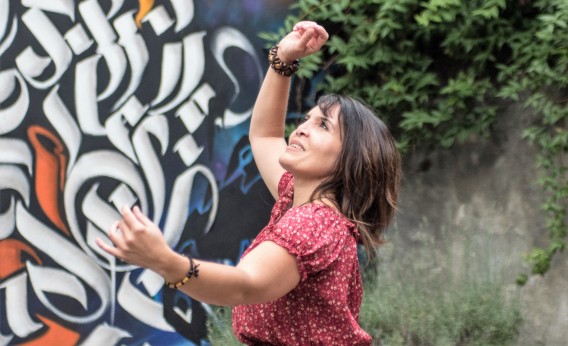 It was to the rhythms of southern Italian drums that Pizzica made its appearance. Other instruments such as the violin, guitar, diatonic accordion, the harmonica and the bagpipes also accompany this enticing dance.
The Pizzica is danced in couples – it is festive, full of energy and accessible to any age group. This dance made a comeback into our daily lives about twenty years ago, and it continues to light up summer nights and warm those cold winter evenings.
The principal dance that we will focus on at first is the Pizzica. We learn to move to the rhythms of the tamburello (frame drum) before taming this dance with the steps that go with it. Classes are accompanied whenever possible by musicians, who give a more sustained and lively rhythm to the dance.
I am also in contact with several dancers and musicians. My goal is to organise several dance workshops throughout the year with them to encourage authentic immersion in the tradition. In the transmission and learning of dance, it is incredibly important to have different people's approaches to it.
The Tammurriata and other Tarantelle will also form part of the programme depending on the development of each student across the year.
Bio
Today the Pizzica is an integral part of my life – a sleeping passion that demands to be awoken. It was within my familial and social milieu that I discovered this dance, right in the heart of my homeland. For over 10 years, through close friends in my village, I had the opportunity to practice the Pizzica in its traditional context. Parallel to this I furthered my knowledge by participating in workshops.
I had the opportunity to organise, in collaboration with the Pour le Bal association, a workshop in Geneva in 2013 with a dance friend from southern Italy. For the love of dance, I also gave several classes within the framework of the Association Régionale des Pouilles de Genève. Having been invited by Massimo and Salvatore, my Tamburelloteachers, to participate in some of their performances, I was given the chance to demonstrate my abilities.
I expanded my knowledge base through other traditional dances such as the Tammurriata, the Tarantelle Calabrese and other Tarantelles. I am pulled by the simple love of dance, and I have hade the chance to practice a number of traditional European dances like Masurka, Scottish, waltzs in three, five and eight counts, and the dances of Brittany.
All of this has allowed me to extend my range and to better appreciate all of these dances, which all have something in common: the pleasure of dance and expression of emotions.