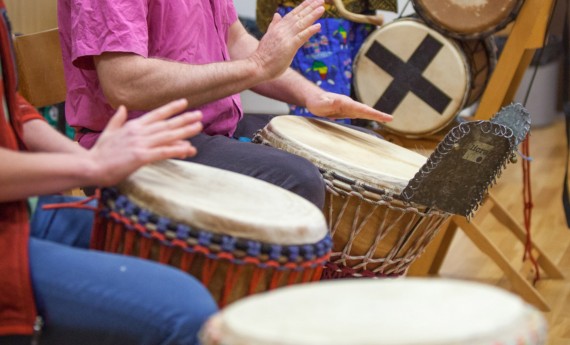 These classes are aimed at all levels of experience and involve the oral transmission of traditional rhythms, listening, strike techniques, solos, and leading a group. This course will help participants to develop a musical ear and a sense of rhythm, as well as learn how to listen to, and direct, the music's energy.
The way this course is taught is based on many years of experience. It looks at:
These are group classes, open to those over 16 years old – beginners as well as advanced practitioners.
Website : https://arrce.ch/ecole-de-percussion/
Bio
African percussion teacher and musician Jean-Marie Senn trained in djembé and kenkeni with Adama Dramé in Africa, and Paco Yé and Louis-César Ewandé in Europe.
He is a 'rythmist' who also trained in clarinet and theory at Geneva's Conservatoire Populaire de Musique. He has been teaching since 1984 with a method he developed and adapted to the demands of teaching traditional instruments in Europe, all the while faithfully following the djembe tradition. He has gathered a wealth of experience in private and group lessons.