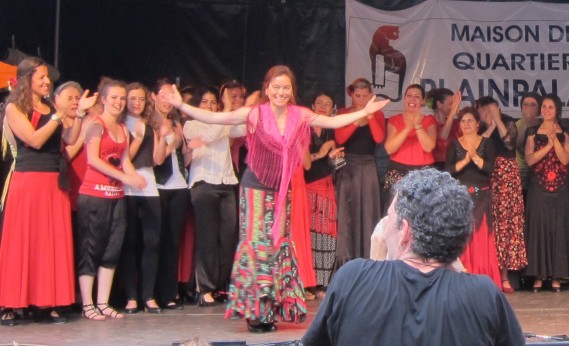 Are you interested in Flamenco, does it attract you, does it animate you?
Come and discover this art form in a free introductory flamenco dance class given by Ana La China.

On the program:
Rhythmic practice (hand and foot strikes) on a simple 4 beat rhythm.
Posture, attitude and basic step sequences in a friendly atmosphere.

Ana La China has been teaching at ADEM since 1989 and has trained many students, some of whom are performing on stage today.
Bio
Ana la China is a dancer of temperament, capable of captivating her audience to the point of making them share her most intimate emotions. Her intense and wild dance is an incarnation of the most authentic flamenco. She has extensive professional experience, from tablaos and peñas to the most prestigious theaters. She has collaborated for years with renowned artists such as Antonio de la Malena, Luis Moneo, Domingo Rubichi, Miguel Angel Cortés and others, with whom she has toured Europe extensively.

She has been invited to dance in plays and shows with artists from other cultures such as "The Gypsy Road" - tours in Europe and Asia with the "Taraf de Haïdouk" and "The Manganiyars of Rajasthan" - and "From Benares to Jerez" - tours in Europe with the Kathak dancer Ravi Shankar Mishra and the making of a documentary film. Since 2006, she has been collaborating with the guitarist Daniel Manzanas, the singers Cristo Cortés, José Cortés and Melchior Campos, and the percussionist Edu Coquard, with whom she creates ever more personal choreographies.
PLACE:
ADEM Maraîchers - 44, rue des Maraîchers - 1205 Geneva
DATE & TIME:
Saturday, September 3, 2022, from 10:30 am to 12:00 pm
For reasons of space, please announce your presence by e-mail to the following address: analachina.flamenco@gmail.com
CONTACT :
T : + 41 (0)78 737 96 62