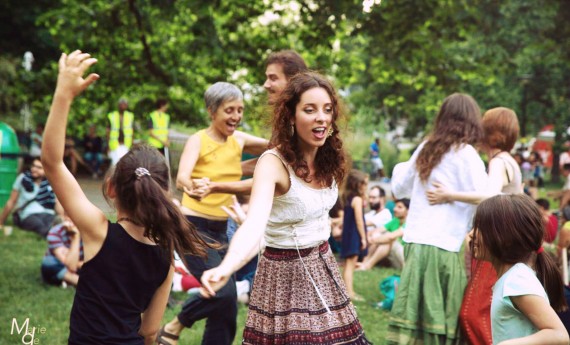 Marine presents a repertoire comprising polyphonic songs with a focus on traditional French songs. These were born out of an oral culture and are part of the cultural patrimony. Their multifaceted nature and musical and historical richness make for diverse material to explore: Breton, Basque, Normand, Corsican etc.
This class of group singing begins with vocal warm-ups based on breathing, timbre and polyrhythms, and the accompaniment of gestures with sound. Then the class gets to work on a particular song with simple, accessible arrangements. At the end of the course, a small concert is planned for 8 July at the Château Bruyant festival.
Bio
Musician, singer, flautist and guitarist Marine followed a classical path with music theory and flute, as well as jazz (the jazz school in Tours) and had a variety of experiences on stage before becoming interested in traditional and improvised music. A professional and passionate musician, she has worked as a music instructor for the Bulle d'Air, an association for early-learning music classes, in Geneva since 2014, and for the Hémiole association since 2018.
With qualifications in social services and in music instruction, she likes to link music to social settings in order to determine a public's characteristics and best adapt the musical session to their needs.
PLACE :
ADEM Montbrillant
10, rue de Montbrillant - 1201 Geneva
TIMETABLE :
Tuesday, 18h45-20h15

FEES :
10 sessions : 150.- + 50.-registration to ADEM (yearly)
Free trial lesson

CONTACT :
T : +41 (0)76 248 39 74
Email : marine.pelletreau@laposte.net